Get Started Free Quote
* = Indicate Mandatory Fields
Clover® Flex Portable POS Solution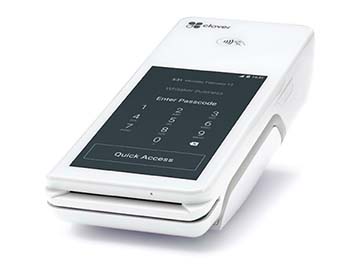 Small in size, Clover® Flex is built to do business wherever you are. Easy to take with you and easy to hand to customers- they can dip, swipe, tap, enter a pin and sign, whether in line, in the aisle, or at the table. And its built-in receipt printer and scanner ensures Clover® Flex delivers the ultimate in flexibility.
Pair it with Clover® Station or Clover® Mini and you have some serious countertop Point of Sale power.
* Requires Monthly Service with Clover® $0-29.95 per unit
Benefits & Features
With a great brand name and hundreds of thousands of satisfied customers, you have a complete business solution ready for you to implement and start processing sales immediately.
Flex Benefits:
Manage inventory, employees and much, much more.
Out of the box, Clover® can be configured the way you need it.
Lease Options Available.
Flex Features:
Includes the latest encryption and tokenization technology.
Offline Mode still works even when your Internet is down.
Compact and Bright 5" Touch Screen