Clover® Point of Sale Systems
Standalone / Fixed Point of Sale Solutions
Clover® Station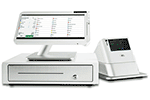 Accept payments, manage inventory, manage employees and much, much more. Easy to set up full point of sale solution.
This sleek, swiveling, full station will impress your customers.
Keep your business running, unreliable online connections will not stop you from performing business. Clover® Station still works even when your Internet is down.
Includes the latest end-to-end encryption and tokenization technology to help protect customers from the moment their card is accepted.
Out of the box, Clover® Station is configured just the way you want it, and ready to take payments from customers.
Large and Bright 11.6" Touch Screen
Learn

More
Clover® Mini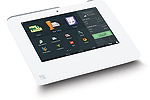 Big things come in small packages. Easy to set up with everything at touch of your finger. Want a basic terminal? Or maybe something with more options? Add accessories and capabilities as needed.
Maximize Counter Space with a mini version of the Clover® Station.
Integrate with existing Clover® Station point of sale software for a secure, EMV-ready, PCI-compliant, feature-rich system
Includes the latest end-to-end encryption and tokenization technology to help protect customers from the moment their card is accepted.
Comes standard with integrated Credit and EBT card swipes, EMV chip + PIN and EMV chip + signature, and contactless payments like Apple Pay, Samsung Pay and Android Pay
Compact and Bright 7" Touch Screen
Learn

More
Clover® Flex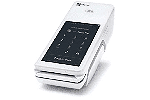 Just Like all other Clover® Products, Clover® Flex accepts electronic signatures, and emails and texts receipts. And we store everything for you, so no more piles of paper receipts, which makes things a lot easier in the event of a chargeback.
Clover® Flex is perfect for any mobile industry. No need to run back and forth from your customer to your counter to process a card, print the receipt, get the customer signature, and adjust the tip.
Going mobile means being connected. Clover® Flex is available for Wi-Fi or 3G, inexpensive data plan available.
Includes the latest end-to-end encryption and tokenization technology to help protect customers from the moment their card is accepted.
Comes standard with integrated Credit and EBT card swipes, EMV chip + PIN and EMV chip + signature, and contactless payments like Apple Pay, Samsung Pay and Android Pay
Compact and Bright 5" Touch Screen
Learn

More
Mobile Phone / Tablet Solutions
Clover® Go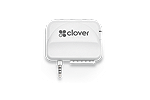 Accept payments, manage inventory, manage employees and much, much more.
Clover® Go works together with other Clover® devices. Open an order from any other Clover® POS and close it out on your Clover® Go.
Equipped with more memory than competitor models, accepts more applications to meet your needs now and in the future.
Includes the latest end-to-end encryption and tokenization technology to help protect customers from the moment their card is accepted.
Comes standard with integrated Credit and EMV chip + signature.
Learn

More
Clover® Go NFC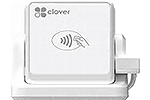 Accept payments, manage inventory, manage employees and much, much more.
Clover® Go works together with other Clover® devices. Open an order from any other Clover® POS and close it out on your Clover® Go.
Equipped with more memory than competitor models, accepts more applications to meet your needs now and in the future.
Includes the latest end-to-end encryption and tokenization technology to help protect customers from the moment their card is accepted.
Comes standard with integrated Credit and EBT card swipes, EMV chip + PIN and EMV chip + signature, and contactless payments like Apple Pay, Samsung Pay and Android Pay
Learn

More