Get Started Free Quote
* = Indicate Mandatory Fields
Clover® Go NFC Process Payments Anywhere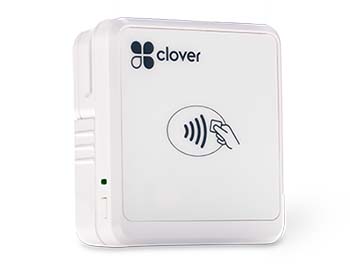 So whether you're running around your store or tend to take matters into the field, Clover® Go NFC Reader is your go-to POS for secure credit card swipes, dips and taps like Apple Pay®, Samsung Pay™ and Android Pay™.
It also offers many of the same industrial strength payment capabilities and the security as our larger Clover® devices. Just provide your own smartphone or tablet and a free hand.
* Requires Monthly Service with Clover® $10.00 per month
Benefits & Features
With a great brand name and hundreds of thousands of satisfied customers, you have a complete business solution ready for you to implement and start processing sales immediately.
Go NFC Benefits:
Build inventory, manage employees and much more.
Clover® Go works together with other Clover® devices.
Lease Options Available.
Go NFC Features:
Includes the latest encryption and tokenization technology.
EMV® chip, swipe, or mobile device, Clover® Go accepts it.
Compact, Bluetooth Device